News-Blog
November 8, 2021

Mitch Holmes

We are excited to introduce Mitch Holmes to our talented group of artists.

Mitch was introduced to us by his grandmother, accomplished plein air artist Mary Rose Holmes. Mitch has developed his own style but has found inspiration from the Highwaymen paintings and the Plein Air Cottages Artists. Below is a video link of "What Right with Tampa Bay" by Fox 13. "Grandmother passes family legacy to grandson one brush stroke at a time."

Mitch is a youngman with a bright future in the visual arts, and as a song writer. We are fortunate to be able to showcase his work on our website.

In his short career as a oil painter Mitch has seen great admiration for his work. His paintings sell before they even get a chance to dry.

Here are some photos of Mitch involved in the arts from a very young age.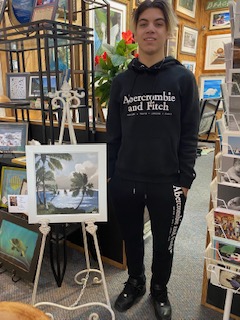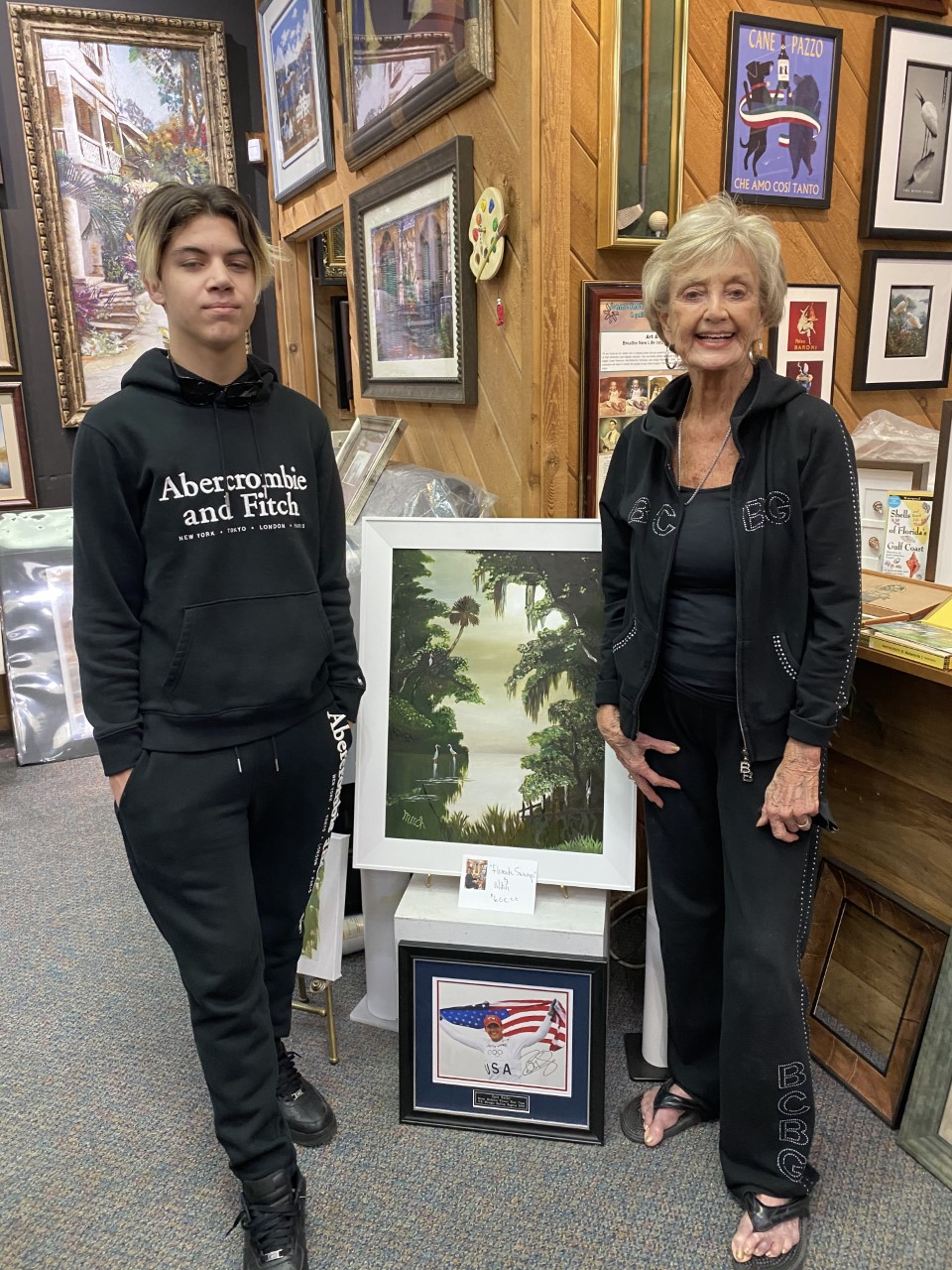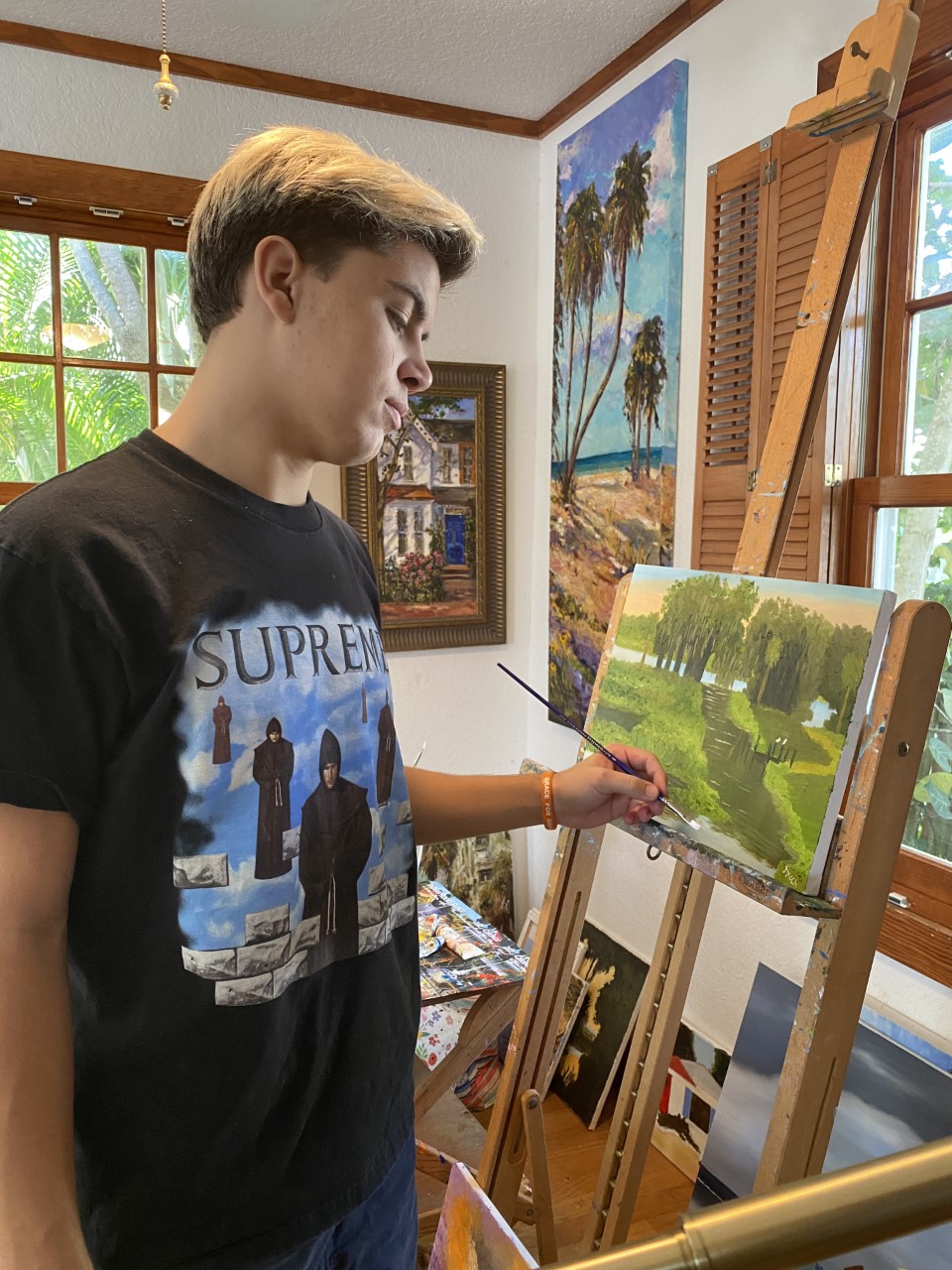 https://www.fox13news.com/news/grandmother-passes-family-legacy-on-to-grandson-one-brushstroke-at-a-time?fbclid=IwAR0Iev3Nf5AW38loGNbueoWL1yo1xntlO0lxdLR7xMTK1tAxkfH11JeisQM
___________________________________________
September 16, 2021 - How are our Artists faring the time?

Edin Gutierrez,

I recently had a lovely visit with Edin and his wife Alejandra, also a fabulous artist, at their studio in Miami. We caught up on the challenging times and reflected on what the pandemic and isolation had done to their creative process.

Edin has gone deep within and expressed his feelings and thoughts, not only by painting, but by creating sculptures that depict his philosophical views of the current times. I'll be writing more about the sculptures and including prographs on a later post.

In addition, recently Edin painted a moment in time inspired by the Patria y Vida movement and protest that took place in Cuba July 2021. Cubans protested 62 years of communism, oppression, hunger, and dehumanizing healthcare and living conditions on the island. Amid all of it an elderly woman stood out, her name is Sara "Sarita" and she lives on the island. Although she is partially blind and very fragile she still managed to make her voice heard in the only way that she could, by standing outside her door making noise with a cooking pot she found on her way out the door. Someone protographed Sarita and her image went viral around the world.

Edin, Alejandra, and a group of artists were invited to paint a mural in Little Havana, Miami, honoring the movement and protest. Edin chose the now iconic image of this fragile but brave woman as the subject of his painting. The mural and Sarita's painting have taken a life of their own. Edin has been interviewed by several media outlets and Sarita is reaching audiences she could never have imagined.

Edin has made prints of his painting and is selling them at a very modest price for the purpose of using the proceeds, less the cost to produce the prints, to help Sarita and others in need on the island. You may order the prints on this website.

Following are links to YouTube videos of some of the interviews:

https://video.search.yahoo.com/search/video;_ylt=A0geK.P4aUJh3kwAVThXNyoA;_ylu=Y29sbwNiZjEEcG9zAzEEdnRpZAMEc2VjA3BpdnM-?p=edin+gutierrez&fr2=piv-web&fr=yfp-t-s

https://video.search.yahoo.com/search/video;_ylt=A0geK.P4aUJh3kwAVThXNyoA;_ylu=Y29sbwNiZjEEcG9zAzEEdnRpZAMEc2VjA3BpdnM-?p=edin+gutierrez&fr2=piv-web&fr=yfp-t-s#id=7&vid=b6daddc206e9b17e0febe42dd5014db6&action=view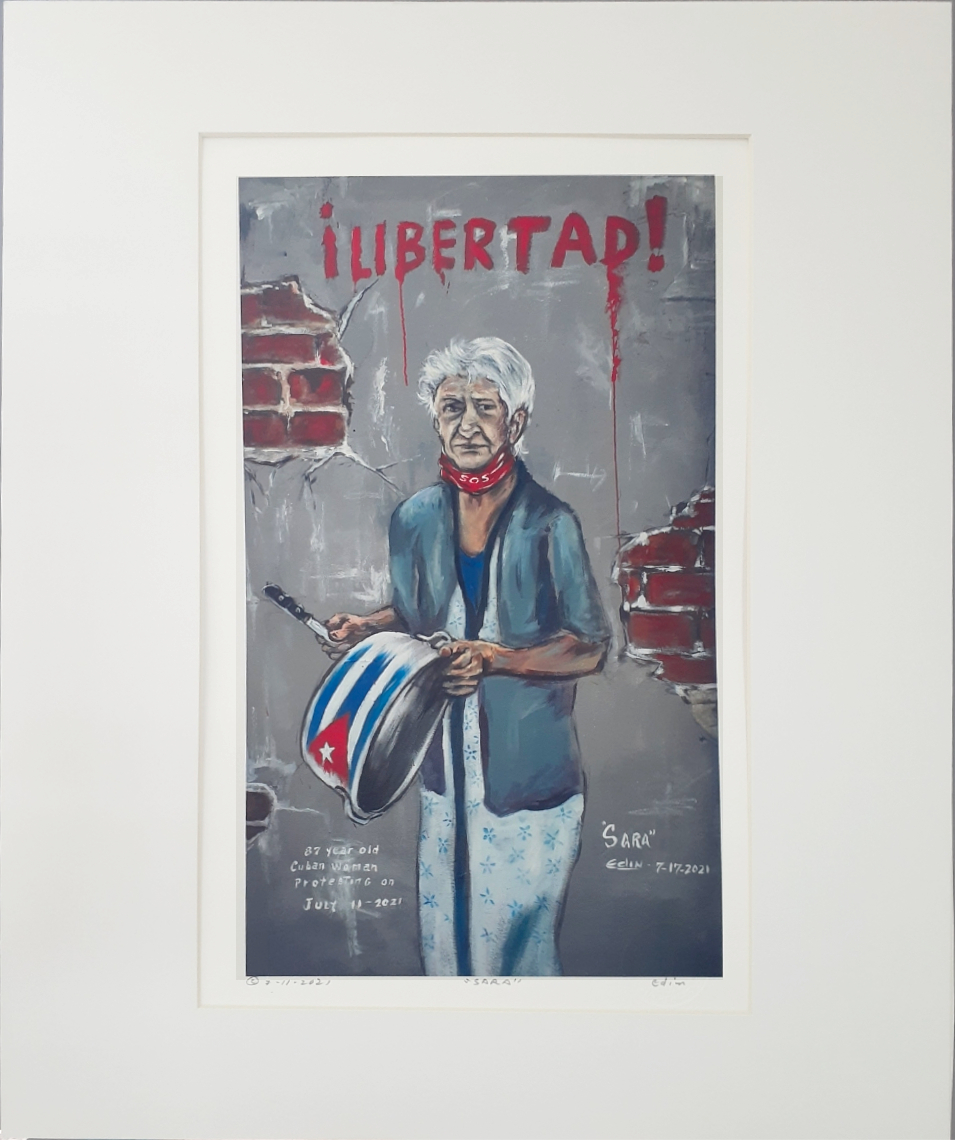 _________________________________________

May 11, 2021 - How are our Artists faring the times?
CAT CLAUSEN
While catching up with Cathee "Cat" Clausen I was so happy to hear that she has been very productive with her art and talent during these challenging times. Cat has started a new series, but this time they are landscapes. I was curious about the inspiration behind the subject matter and Cat shared the following with me:
"Why I paint Landscapes..... My husband and I were delighted to add a new member to our family, a "covid-19" puppy, which we named Mr. Bear. I have been hiking twice a day with Mr. Bear for the last year.
Being well rested from having only one festival in 2020, as well as getting the new puppy and needing to exercise him, led me to develop a hiking program. I selected to enjoy this regiment in the beautiful Illinois prairie, which is dotted with clear reflective lakes and rolling hills, and they are blanketed with wild flowers this time of the year. It was here in the breathtaking outdoors where I was inspired to create my latest collection of landscapes.
While out in the prairie nature preserves, I take reference photos with my camera. When I return to my studio I use these images to create 11"x 14" landscape paintings in oil. Next, I create a large oil painting based loosely on the small oil study. I remain very present during the creation process of all of my paintings, giving the art piece 100% of my attention at all times. I don't believe in multitasking -- ever. This process is vital to me. I honor my buyers, my art, and myself by practicing as an artist in the focused manner. The titles of these new pieces reveal where Mr. Bear and I hike. I frame and sell both the small study pieces and the large oil paintings.
I have my first fine arts festival of 2021, May 15-16, in Alexandria, Virginia. I will present my well-known Abraham Lincoln pieces, and the new landscapes alongside one another. The two bodies of work were designed to blend and hang together beautifully as an expanded collection. If you own one of my Lincolns, you may want a prairie landscape to join him."
Cat's Lincoln signature style is evident in her landscapes. Please visit link below for Cat's various collections, Lincoln Collection, HOPE Collection, and Landscape Collection.
Cathee "Cat" Clausens Collections
April 22, 2021 - Continuation of... How are our artists faring the times?
VIOLETTA CHANDLER
I recently had the opportunity to talk with Violetta whose work we proudly represent on our website. She told me a little about what she has been doing to continue painting and doing what she loves.
The year 2020 turned out to be a very challenging year for Violetta in many ways. Being a travelling artist and art teacher it took some creativity to be productive.
Violetta decided to catch up with some writing and reading about artists, recording a few motivational videos, and teaching via Zoom.
Just before 2020 quarantine started she was fortunate to go to St. Augustine for a workshop trip and brought back some fabulous work/studies in oils.
With some extra time in the studio she has been planning and preparing for upcoming exhibits.
Most recently she has been able to teach oil painting classes at the Beach Art Center, Indian Rocks Beach; and had wonderful plein air workshops locally.
Violetta is also getting ready to teach a series of art lessons at the Suntan Art Center on St. Pete Beach.
As you can see Violetta will always find a way to exercise her talent and continue to grow as a fine art artist.
Here is one of Violetta's painting from St. Augustine.
______________________________
March 18, 2021 -
HELEN TILSTON
A DIFFERENT VIEW: Packing your paints travel with an artist. By Jen Savedra
I would like to share with you a wonderful article by Jen Savedra published recently in Travel Industry Today. An interview with Helen Tilston, plein air artist.
This article is informative for collectors and very inspiring for artists. The article certainly inspired me to travel with my paints and easel.
Click on the link below for the full article:
https://travelindustrytoday.com/a-different-view-packing-your-paints-travel-with-an-artist/
____________________________________
March 15, 2021 - How are our artists faring the times?
MARY ROSE HOLMES
As we continue to follow up with our aritsts we are encouraged by their resilience and dedication to their passion.
Today I will tell you about Mary Rose Holmes, another one of the Plein Air Cottage Artists. Mary Rose, like Helen Tilston from our February 18th blog, was also the subject of the award-winning documentaries, Save our Cottages Artists with a Cause, and Canvas with a Cause.
Mary Rose has been very busy this last year, while taking care of herself in isolation she managed to finish a number of commissions for very happy collectors.
In addition, she tell us one of her greatest pleasures this past year has been teaching grandchildren of all ages the art of painting. You will see below some of her young talented grandchildren and their creations.
In February Mary Rose and her 18-year-old grandson Mitch Holmes were featured painting together on "What's Right in Tampa Bay" Fox 13. A very proud moment for grandmother and grandson. Below is the link to the feature and photographs of the two o them ad Mitch's painting.
http://fox13news.com/news/grandmother-passes-family-legacy-on-to-grandson-one-brushstroke-at-a-time
_________________
February 18, 2021 - How are our artists faring the times?
HELEN TILSTON
Well, to start with let me tell you about Helen Tilston, she is one of our Plein Air Cottage Artists. Helen, along with fellow artists, Mary Rose Holmes and Violetta Chandler are the feature of two documentaries. Save our Cottages, Artists with a Cause is currently doing the rounds of film festivals and has won two awards "Best Florida documentary at St. Petersburg Film Festival 2020 and People's Choice Award at Tampa Film Festival. It is slated to air on PBS soon. Here is "Canvas with a Cause" as aired on WEDU/PBS in September of 2020. https://video.wedu.org/video/episode-917-coierw/
Following filming of Canvas with a Cause, Helen Tilston few to her home at the seaside hill tow of Youghal, Ccounty Cork and has been painting a series of "beach scenes and homes at Youghal".
These two paintings are hot off the easel. What greater way to celebrate St. Patrick's Day than to own an original oil painting, painted by the ocean in Ireland. You may even find a grain of Irish sand on the canvas.
__________________________________
September 17, 2020 - We are so excited and proud of artists Helen Tilston and Mary Rose Holmes. WEDU aired today a wonderful documentary about their art and the role it plays in the preservation of the Indian Rocks Beach cottages. These ladies were called Indian Rocks Beach Royalty, a well deserved title. They are a gift to Indian Rocks Beach and to all that know them and those that are fortunate to collect their paintings. You can see the documentary on the following link:
WEDU Tilston and Holmes Documentary
___________________________________
April 22, 2020 - Humanity is experiencing one of the most trying and difficult times as COVID-19, a deadly virus, touches every one of us one way or another.
As we are forced to stay home in quarantine we are all trying to make the best of the situation. Our group of artists are taking this time to exercise their talent and create inspiring and colorful art which we will be adding to our website and posting on social media as they finish them.
Please follow us and enjoy their creations:
Facebook - @StudioEncantoUSA
Instragram - StudioEncantoUSA
Stay safe and healthy!
Esther Scott
__________________________________
Again, Waterworks Membership Club in Sarasota welcomed another one of our artists to be exhibited on their walls March through June. Yvette Galliher delivers color masterfully. Her paintings brighten and warm any room. She is collected internationally and it is our pleasure to have her in our family of artists.
______________________________________
I thought I report to you that our beautiful and talented Save the Cottages Artists had a most successful event January 11, 2020. Indian Rocks Art Center was the place to be seen. Creative on Main Street, Save our Cottages, Artist with a Cause documentary was shown that evening accompanied by a fabulous art exhibit with more than 80 paintings by the artists, Mary Rose Holmes, Helen Tilston, and Violetta Chandler. An electric and exciting evening with hundreds of attendees delighted in the creations by the artists.
You can view a preview of the award winning documentary on the following link: https://www.facebook.com/watch/?v=1833624753556238
________________________________
We continue with our efforts to not only display our artists on our website, but also by occassionally exhibing their work at a special location.
We were able to again exhibit Edin Gutierrez' Cigar Series in January 2020 at a prominent Sarasota Membership Club, Waterworks, during a lovely evening of music, cigar tasting, wine tasting, and of course, the paintings by Edin. We thank all the staff at Waterworks for their gracious hospitality and enthusiasm. The art was exhibited there for 3 months.
___________________________________
October 5th, 2019. An evening to Awaken the Senses. We had a fantastic event at Webb City Cellars, the new aging house and event space at Green Bench Brewing. We exhibited Edin Gutierrez' cigar inspired paintings. We were also joined by Green Bench Brewery, who offered an Irish Coffee Been Stout, Coffee Pot Bayou, that paired nicely with the cigars. Alfredo from Espinosa Cigars came from South Florida to represent the special selection of cigars, and Dee from Fusion Cigar Lounge in Clearwater made available a wonderful variety of cigars throughout the evening.
We were also accompanied by Claudine Bijou, who sang Spanish ballads that complimented the evening's theme.
We thank all attendees who made the evening extra special, including guests from out of town.
Some pieces have new homes in the area and others across the country.
We invite you to view the cigar collection on our site, visit Green Bench Brewery downtown St. Petersburg, and Fusion Cigar Lounge in Clearwater.
Stay tuned for other events in the near future.
We invite you to visit the following link to watch a video of our Plein Air Artist Helen Tilston. Helen shares a painting and memories of her home by the ocean in Ireland. Enjoy!
"My Treasure"
https://www.youtube.com/watch?v=w1ftQOEWrLk
____________________________________
We are excited that Rafael E. Cuza, Cuban Artist, has joined our online gallery. Rafael's creations are influenced by internationally recognized Cuban artist Wilfredo Lam, and he uses Taino Indian and Aboriginal Deities in his paintings. Rafael is a master working with mixed media, such as bones, wood, etc. Here are some examples of his work at exhibitions in Holguin, Cuba.
__________________________________
The place to be Saturday, March 23 at 12 noon, is in Tampa, Florida at the AMC Cinema Ybor City. "Save our Cottages Artists with a Cause" documentary by Emmy Award documentary film makers Lynn Marvin Dingfelder and Larry Wiezycki, has been selected by Gasparilla Film Festival. Limited tickets at https://saveourcottagesdoc.org/giff. Image below shows Mary Rose Holmes, Violetta Chandler and Helen Tilston painting at Indian Rocks Beach.
___________________________________
Cat Clausen recently joined our family of artists at EncantoArt.com. We are happy to share with you some of Cat's Lincoln paintings that have been showcased in a number of notable locations, and private collections.
_
____________________________